A Taste of French Summer with Malongo Atelier Barista's Summer Menu
What started out as a small-time family-run roaster established out of Nice, France, in 1934, today, Malongo is a French Living Heritage company specializing in Fair Trade and organic coffees and teas.
From plantation to cup, beginning with Malongo's exceptional properties around the world to its traditional farming methods; from farmers hand-picking the cherries to slow roasting the beans, every single step of the way renders Malongo coffee its incomparable flavour.
But I guess the better new is that they are now in the Philippines.
An urban style sanctuary devoted to coffee and French comfort cuisine, Malongo Atelier Barista invites us to savour the rarest vintages and the most original recipes. Think of a coffee break unlike any other, somewhere between cocktails and specialities, where you can meet specialists who can guide you as you explore the best Arabicas in the world as well as offer the home brewer gift advice on French-designed machines, brewing paraphernalia, teas and infusions, pods, toothsome titbits, and special gift boxes…
A taste of French summer…
Picture a Provençal terrace looking out onto a glorious vista, with rolling hills beyond and fields of luscious summer produce.
Malongo Atelier Barista's has just launched three French-Mediterranean inspired dishes, which beautifully conjure up the South of France during the sunny summer months.
Until the end of May this year, make the most of bright, warm days by digging into these vibrant and fresh meals full of seasonal flavours. Best enjoyed with Malongo's classic and coffee cocktails.
Malongo Atelier Barista's Summer Menu
Twice-Baked Goat's Cheese Soufflé
Parmesan encrusted goat's cheese soufflé topped with cream and served with spinach and walnut salad.
Vegetable Omelette with Bacon
Omelette with sautéed bell peppers, cherry tomatoes, and onions topped with crispy maple bacon.
Steak n' Rice
Rib-eye steak on of multi-grain rice with a side of sautéed red cabbage.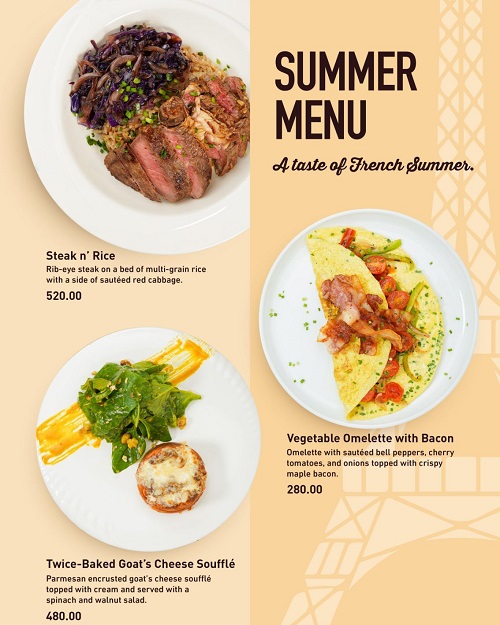 Looking for more travel news and adventures? Subscribe to our blog through email and like the LGS Facebook Page. Follow our Twitter and Instagram accounts too!
Malongo Atelier Barista is located at: G/F Greenbelt Hamilton, 149 Legazpi Street, Legazpi Village, Makati; and at 3rd Avenue, Lower Ground, One Bonifacio High Street, BGC, Taguig.
The Fullerton Hotel Singapore and The Fullerton Bay Hotel Singapore will be unveiling new Afternoon Tea experiences: the Traditional Afternoon...