New MV 2GO Masagana Celebrates 1st Anniversary w/ P99 Sea Sale
In celebration of the first anniversary of MV 2GO Masagana –2GO's most modern vessel – 2GO Travel is offering a Sea Sale with fares as low as P99, one way.
The sea sale runs until August 7 for travel from September 1 to October 11. Fares are inclusive of accommodations and a generous 50kg baggage allowance, giving travelers more space for pasalubongs and other items bought during their trips.

The Php 99 fare is available for voyages to and from Manila and Tagbilaran. For voyages from Manila to Cebu, Bacolod, Iloilo, Dumaguete, Puerto Princesa, Coron vice versa can be purchased for as low as Php 399, one way.
Fares from Manila to Mindanao destinations, such as Butuan, Cagayan De Oro, Dipolog, Ozamis and Zamboanga vice versa are offered for as low as Php499, one way.
From Cebu, fares as low as Php299, one way are also available for voyages to Cagayan De Oro, Ozamiz and Butuan, and from Dumaguete to Zamboanga.
Bacolod City, the home of the renowned MassKara Festival, is among the destinations covered in the sale. The fiesta will be making a comeback this October after a two-year hiatus. From Manila, passengers can begin their sailcation to the City of Smiles aboard MV 2GO Masagana – 2GO's latest vessel. MV 2GO Masagana sails from Manila to Bacolod twice a week.
From Bacolod, MV 2GO Masagana – also one of 2GO's largest and fastest vessels – also sails to Cagayan De Oro. MV 2GO Masagana also travels from Manila to Iloilo and Cagayan De Oro vice versa, and from Iloilo to Cagayan De Oro vice versa.
2GO offers travelers cruise-like experiences with fun activities onboard, spacious, and clean accommodations, hot and fresh meals, a variety of food and drink, and views of the country's beautiful islands.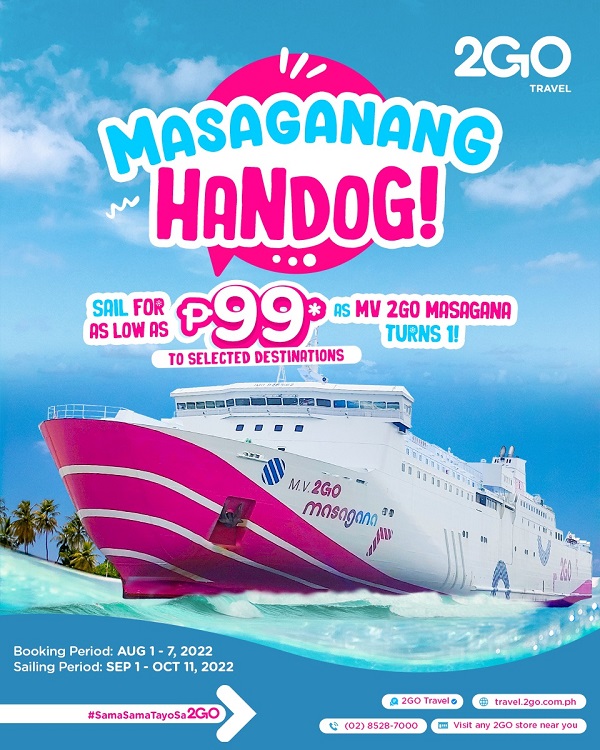 "We know that travelers, especially those in big groups, are overly excited to regain the freedom to travel without restrictions and witness our native festivals once again. For families, the MassKara is also a wonderful time for reunions. It is great the #SamaSamaTayoSa2GO campaign is helping us attract travelers once again," says Atty. Pinky Mirano-Ocampo, Director of the 2022 MassKara Festival.
"We are very, very thankful to 2GO for giving travelers an opportunity to experience the MassKara live and face-to-face after a long break. For us in the City of Smiles, it is time to give back to our guests that smile," she adds.
"The Philippines is a country of festivals, which is reflective our culture of being fun-loving and of togetherness. We wanted to extend the atmosphere of these festivals through the sailcations we offer at 2GO. While we offer fun activities, we also make sure that passengers have a safe, affordable, and fun travel experience. Kaya tara, #SamaSamaTayoSa2GO!" says Blessie Cruz, 2GO's Group Head for Marketing.
Moreover, companies and groups can also arrange fun team building before festivals on 2GO vessels, particularly on MV 2GO Masagana and MV 2GO Maligaya. The two ships serve as unique and enjoyable MICE venues with facilities that can accommodate gatherings with exclusive use of the meeting rooms with audio and video set-up and live entertainment during evening
Looking for more travel news and adventures? Subscribe to our blog through email and like the LGS Facebook Page. Follow our Twitter and Instagram accounts too!
Let's go, tara na!
In a dazzling display of creativity, elegance and business acumen, Discovery Samal, the newest five-star luxury resort, emerged as the...