Oktoberfest @ Sofitel Manila Soon
Beer lovers in the Philippines have an excuse to celebrate a grand festival way in advance before Christmas – they call it the Oktoberfest! Simlar to the Oktoberfest celebrations in Germany, Filipino beer drinkers anticipate this annual nationwide 'requirement of sorts' in a very festive manner.
This year, get to experience once again an authentic beer festival – Oktoberfest 2013 – this coming October 18 & 19 at Sofitel Philippine Plaza Manila's newly renovated Harbor Garden Tent.
Oktoberfest 2012 stood witness to more than 3,500 guests consuming more than 28,548 liters of beer, 950 kgs of German sausages, 260 kgs of pork knuckles and 200 kgs of sauerkraut in a span of two days.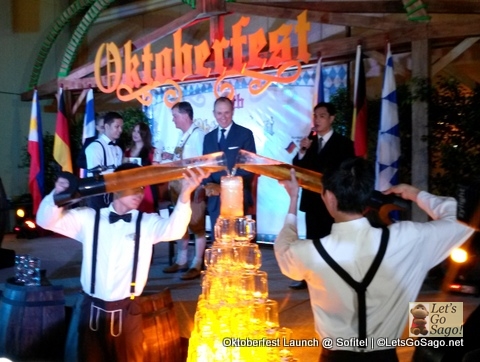 Oktoberfest 2013
In celebration of the 180th Oktoberfest worldwide (and 75th anniversary of the Oktoberfest by the German Club in the Philippines), it is expected to have a grander spread of authentic Bavarian cuisine as the Harbor Garden Tent which will be decorated in Bavarian colors of white and blue.
Moreover, music will be led by the "Bavarian Sound Express" from Munich to make every guest sing and dance all night long in an authentic setting of Oktoberfest tables and benches set up for a festive beer garden fair. 'The Bloomfields' will also be rocking the house with their retro 60s music as they perform on October 19.
Know a little bit more about the Bavarian culinary spread to be prepared by Sofitel Philippine Plaza's Executive Chef Eric Costille on NomNom Club food blog soon!
Sofitel Philippine Plaza General Manager Adam Laker said that "it is our pleasure to play host to this year's 75th Oktoberfest at the Sofitel Philippine Plaza on its' fourth year. Through the years, we have seen how Oktoberfest has helped promote camaraderie among the Filipinos and Germans."
Furthermore, Oktoberfest Chairman, Michael Scheile shared that "this year's 75th anniversary of the German Club's Oktoberfest will be a milestone not only for the German Club but also for the Club's objectives of promoting the Philippines as valuable destination for investment to German businesses."
Oktoberfest Prizes & Raffle
What is a party in the Philippines without raffle draws and prizes? Win from among over 4 million worth of prizes in the Oktoberfest raffle draws including a roundtrip business class ticket to Germany with Etihad, Mercedes Benz weekend drives with overnighstay in Baguio, laptops, DSL cameras from Canon, I-pads from Mac, Levis jeans, Puma shirts and more. Proceeds go to the German Club's welfare projects.
Can't get enough of the celebrations? Check out the upcoming spooky Halloween in Sofitel!
Oktoberfest Sofitel Rooms
After the Oktoberfest party, get hotel-resort accommodations at Sofitel Philippine Plaza offering special rates for Oktoberfest ticket holders at P 5,000 nett for a superior room. Add a Spiral breakfast for P 1,200 nett per person.
Join in for your fair share of beers and German sausages with Oktoberfest 2013 fever at Sofitel Philippines Plaza! You may call the German Club Manila for details at (63 2) 817-3552, (63 2) 818-4236 or Sofitel Manila at (63 2) 832-6988 and (63 2) 551-5555 ext. 6988, or email [email protected] or [email protected]. Visit their website too at sofitelmanila.com.
Are you traveling soon? And since it's already the hot-dry season [aka 'summer'] in the Philippines, it's peak travel season!...