Beyond Travel, Taiwan Means Business
Did you know that the Philippines has the most number of tourist arrivals from Southeast Asia in Taiwan in 2018?
Filipinos' increasing propensity to visit Taiwan for travel and leisure is undeniable; the drastic increase in numbers of the past few years says it all. It was further boosted when the Taiwanese government indefinitely lifted the visa requirement of Philippine passport holders to enter their country since last year.
Today, it seems that Taiwan is not only promoting itself as a travel destination for Filipinos. They now seek more serious activities – business linkages in particular.
Wow Taiwan!
Earlier today, we visited the "Wow! Taiwan" exhibit at the Rosemary Hall of City Garden Grand Hotel in Makati City . The event featured different Taiwan-based enterprises presented their various products and brands for possible business-matching in the Philippines and to introduce them to our local market as well.
The showcase housed various kiosks that displayed the best of Taiwanese food, cosmetics, fashion, technology, and modern household products. The brands in the exhibition included XYZprinting Inc., Brinno Incorporation, HiMirror Mini, Master Mi, Carnation, Yumark, FECA, Kid2Youth, Washcan, Jye Li An, Bung Cheng, Shuter Enterprise Co. Ltd., H&J Food, and Chung-Hsiang Foods.
Taiwan's dynamic economy has been increasingly gaining interest from global businesses in recent time. Emerging as one of the most promising innovation and startup hubs in Asia, Taiwan is home to some of the most groundbreaking and innovative brands in the region.
The "Wow! Taiwan" exhibit was brought to the Philippines by Taiwan's Bureau of Foreign Trade, Ministry of Economic Affairs (BOFT-MOEA) and Commerce Development Research Institute (CDRI) in partnership with CRIF Asia, with the objective of bridging Taiwan's leading enterprises to Philippine companies and consumers
The activity specifically aims to open up new markets and channels for Taiwan's breadwinning products through new distributors, agents, and retailers.
Director Chang Wen Chong, Director of Taipei Economic and Cultural Office (TECO) in the Philippines explained that the entrepreneurs of the exhibited products want to be exposed to the local market in the hope of widening their market and finding prospective partnerships and opportunities to set up shop in the Philippines.
"The Philippines has a very young and dynamic population that's open to innovative products. They are also interested in Taiwanese culture, as seen in the huge numbers of Filipino visitors flocking to Taiwan…Currently, the potential is high in the Filipino market because the younger generation has more disposable income and are open to new and unique products," shared Director Chong.
Here are more photos form the Wow Taiwan Exhibit at the City Garden Grand Hotel: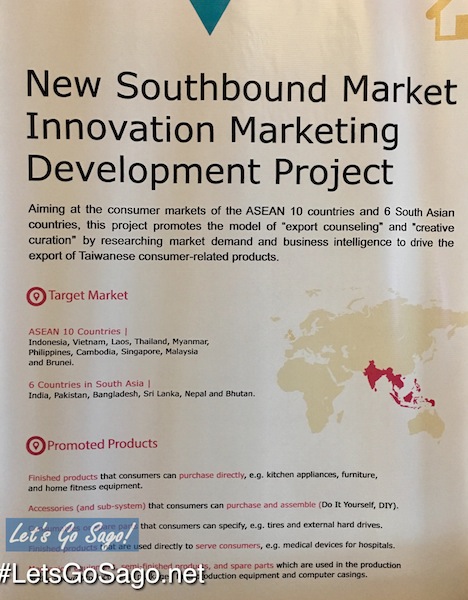 According to Director Chong, the Taiwanese entrepreneurs are targeting the "middle to higher-end market" in the country, due to the increasing purchasing power of Filipinos as well as their affinity with the Taiwanese.
Hungry for travel news and adventures with Let's Go Sago?  Subscribing to our blog through email and like the LGS Facebook Page. Follow our Twitter and Instagram accounts too!
Moving forward, it seems that we will be seeing more Taiwanese toursist and friends in the Philippines as well, not only as fellow travellers, but as business partners in trading. Indeed, Wow Taiwan!
The country's pioneering integrated resort, Newport World Resorts, is taking a bolder step in its property-wide I Love Earth (ILE)...